I'm titling this in the never-ending because that's what life is, neverending. It has no beginning or ending, it simply is.
That is what you are. Life!
It's funny that I'm writing this first blog post months before anyone will see it. It's mainly because I need sample content to make sure everything looks good on this site.
At this moment, I am super-duper excited! Yes, super-duper.
I've been testing out some of my music with different types of crowds in various head-spaces ranging from full-on depression to all-out pure joy and each has responded with overwhelmingly awesome feedback like that in the screenshotted text message below. Also, I don't care what this squiggly red line is talking about, screenshotted is a word.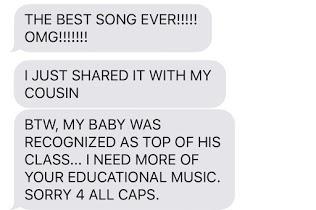 This message was in response to my single Let Go. It's amazing how different the support is between making music that simply sounds good versus making good music that helps people. I got a taste of that with the launch of my company Every Child Wins, which can be best explained as Kidz Bop but educational. This is also what was referenced at the end of that text message.
But back to this.
My purpose and path have never been so clear. As I continue to learn, teach, and live by the information I'm sharing through the songs, I realize that no one has to suffer and in a way no one ever does. This, right here and right now, is a special moment in an array of never-ending special moments. Much will be re-revealed after your first listen.
Ooohhh, I can't wait!
So how do I end my first blog post? I don't.
Y'ALL READY FOR SOME MUSIC?!?!?!