Don't you wish you knew your life's purpose or at least had confirmation? Wouldn't it be nice to know definitively what you were brought here to do? Fortunately, the key is embedded in your genes…Gene Keys.
If I had to summarize Gene Keys, I would say it's the answer to all of your questions about why you are the way you are. Gene Keys is the greatest resource I have ever seen for actually finding your purpose.
Know that I don't use the term resource lightly. It's from source, again (re-source).
What makes Gene Keys so special is its ease. You don't have to search and engage in deep reflection. There are no retreats you need to take. You can just plugin some key info and see your truth.
I'm sure you've heard some of the following terms and may have even engaged in them from time to time:
life path number
sun moon rising
human design
numerology
archetypes
birth chart
divination
zodiac
etc
Gene Keys is all of the above rolled into one. Its accuracy serves as further proof that you are not an accident. You are a perfect creation created by a Perfect Creator.
Are you ready to rediscover your life's purpose?
FYI, I'm smiling right now because I know how impactful reading your Gene Keys profile will be.
What You Need To Know
There is so much detail that went into you being you. It's no coincidence that certain concepts and ideas excite you more than they excite others.
Within you is a hidden genius ready to be unlocked. The circumstances for this unlocking are right here and right now. Afterward, you will have insight on:
What you're here to learn
What keeps you healthy
What deeply fulfills you
What you're here to do
To find this out, you'll need to know some basic information about your birth.
The information includes your birth city, birth date, and birth time.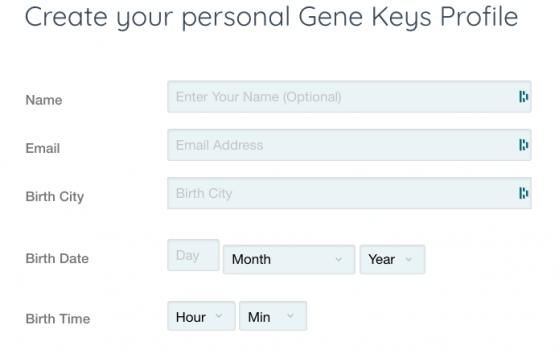 If you don't know your birth time, don't worry. Fill out the profile twice, once with a time toward the beginning of the day and another towards the end.
Next, compare the two to get a better overview of you.
But if finding your birth times means making a few phone calls, I highly advise you to make them.
If you're ready to proceed, click the following link to get your Gene Keys profile.
Make sure you allow email updates so that you'll always have access to this information.
How Accurate is Your Gene Keys Profile?
The creator, or should I say diviner, of Gene Keys is Richard Rudd.
Richard Rudd is an international spiritual teacher, writer, and award-winning poet. Poet…maybe I can get him on a song one day. 🤔
Gene Keys emerged from what Richard calls a field of limitless light that lasted 3 days and 3 nights.
Pretty cool.
When I first read my profile, I couldn't believe it. The section What I'm here to learn spoke directly to what I just overcame at the time. This was something I struggled with for a while.
I wasn't even aware of this struggle until a few years ago. For a profile to capture this perfectly definitely had my attention.
Just to make sure that I wasn't trippin', I sent the Gene Keys profile link to a few friends to check out.
Their reaction was the same as mine. Some even shared it with their spouses and with similar effects. When their spouses also read each other's profile, they both were in amazement saying, "This is you! Yes, this is you!"
It's clear that this isn't a one-size-fits-all type of profile. Your profile is tailored specifically to you, your potential struggles, and your triumphs.
Will This Work For You?
Whether reading your Gene Keys profile will help you depends on where you are in life.
Of the many people I've sent this to, only a few didn't think it was accurate. Me knowing them knew that the profile was accurate, but I didn't push the issue.
The reason they did not realize it is because they had not reached the point of even recognizing their own love. Not to say that they are consumed by hate, but their vision is fixated on shadows, which are just illusions of the figures the shadows mimic.
I have a feeling that if I had them revisit their profile today, they would understand and agree with it. This is because I've been getting them to do simple techniques that have helped them overcome depressive behavior.
But the only way to know for sure if this works for you is to just do it. So do it!
Next Steps
Fill out your Gene Keys profile right now.
Post a comment below or send me a message about if and how much you resonate with your profile.
Share this with those that you know would love this.