9 Best Tools For Independent Rappers: Stay Organized & Make Money
Having the right tools will help you to build the career of your dreams.
Being an independent rapper is awesome! What's not always as awesome is the business side.
You have to make key decisions, spend your budget wisely, focus on the right area at the right time…it can seem overwhelming at times to be an independent rapper.
Fortunately, and I mean this literally, there are many tools available to help us independent rappers.
Here I list my 9 best tools for DIY music artists.
These aren't just any tools. These are tools that I use on a regular basis to allow me to focus on mostly the music.
Below I will list the tool, its intended use, the benefit to me, and the cost if applicable.
NOTE: Some of these tools include my affiliate links. This did not sway my decision to include it in this article. Again, I use these tools multiple times per week.
Top 9 Tools Every Independent Rap Artist Should Use
Drop me a line on Twitter (@jclay1st) and let me know which of these you're excited about.
1. Airtable (database)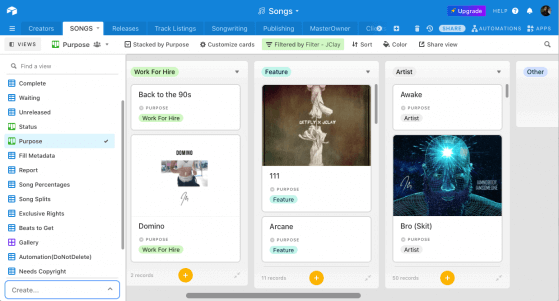 Airtable is the most valuable tool that I use to keep my music organized. So it's only right that it's 1st on my list.
What is it and what can it do?
Airtable is a spreadsheet-database hybrid, with the features of a database but applied to a spreadsheet.
In other words, if you ever wanted to do more with a spreadsheet, you can with Airtable.
With built-in automation, Airtable allows you to connect spreadsheets, sync data across multiple platforms, create no-code websites, and much more.
How I use it
I use Airtable to track my entire song catalog.
Everything is in here including release dates, collaborators' contact info, publishing information, and more.
I even set up a button that generates a text file of a song's lyrics into my file storage system so that I can send it to anyone that requests my lyrics.
At any given moment I can see all of the info about each of my songs (songwriters, publishers, length, tempo, description, streaming links, release date, ISRC, what needs to be copyrighted, what needs to be mixed & mastered, am I writing the song for me or another artist, etc).
When I first got Airtable, it took a couple of days to migrate my entire song catalog and all of its relevant info into one location, but it was so worth it.
Now all my new songs get added automatically, but more on that later.
The cost
The free version of Airtable allows you to do all of the above mentioned!
The Pro version (listed at $20/mo at the time of this article) has a lot more awesome features including better automation and scripting capabilities.
If this would be useful for your rap career, sign-up using my Airtable affiliate link. I'll get $10 in Airtable credit Thank you!
2. Songtradr (licensing)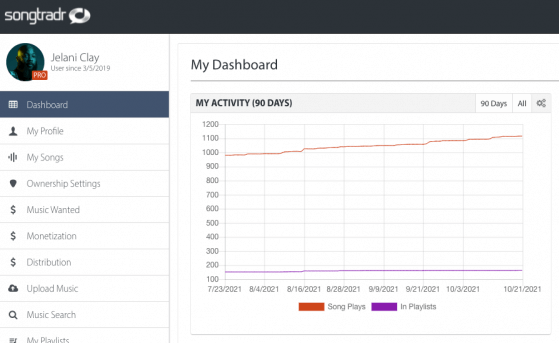 Songtradr has gotten me the most money than I've got from any other music-related activity in one lump sum.
What is it and what can it do?
Songtradr is a music licensing platform.
They help you get your songs placed in film, commercials, tv shows, video games, and more.
The process is that you upload your song to Songtradr and add a bunch of relevant metadata.
Next, brands that need music use it as a search engine to find music for their projects.
NOTE: In order for you to add your music, you must own the rights to it.
In addition, Songtradr has a "Music Wanted" list with time-sensitive opportunities you could submit songs to individually.
Songtradr also provides distribution to music streaming platforms.
How I use it
Every time I complete a song that I intend to release, I add it to Songtradr along with the Instrumental and Acapella versions.
It's easy to fill in all of the related metadata because it's already included in my Airtable spreadsheet.
Then every two days, a reminder pops up on my phone telling me to submit to Songtradr's "Most Wanted" list.
This process only takes 5-10 minutes each time.
The cost
Songtradr is free to use, but you're limited on "Most Wanted" submissions and your licensing revenue will be lower.
Songtradr Pro (listed at $49/yr at the time of this article) gets you more submissions and higher licensing revenue.
I've had Pro for two years now and don't regret it. However, I don't use Songtradr for distribution. For that, I use…well, just keep reading.
If this would be useful for your rap artistry, sign-up using my Songtradr affiliate link. You'll be able to save $10 on Songtradr Pro and I'll get $10. Thank you!
3. Distrokid (distribution)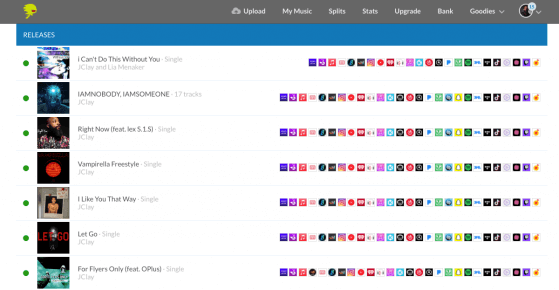 Distrokid makes it easy for me to get my music in the places where you can listen to it all day long.
What is it and what can it do?
DistroKid is an independent digital music distribution service that sends your music to over 100 streaming platforms including Apple Music, Tidal, Spotify, Amazon, and much much more.
With each release, you get a free UPC code and ISRC codes.
Distrokid also provides tools to help your music get heard and promoted. This includes the ability to have your fans pre-save your release, promo cards, playlist discovery, and meme generators.
One huge plus is that you get access to Spotify for Artists so that you can edit your Spotify profile and pitch to Spotify playlists.
How I use it
Every song I release is currently being distributed through Distrokid.
I upload my song or songs, add all of the relevant data, include Shazaam so my song can easily be discovered by others, and set the release date.
I love Distrokid because it's so easy to use. Their customer service is very helpful as well.
Initially, I was with another distributor, but after testing the process, I migrated my entire catalog to Distrokid.
The cost
If you are the only artist or band, it's only $19.99/yr. The price goes up for each artist or band you submit. Additional (optional) fees include Shazaam, which is $0.99/yr/song.
If using this would benefit your rap career, sign-up using my Distrokid affiliate link. You'll get a 7% discount and I'll get $10. Thank you!
4. BeatStars (beats)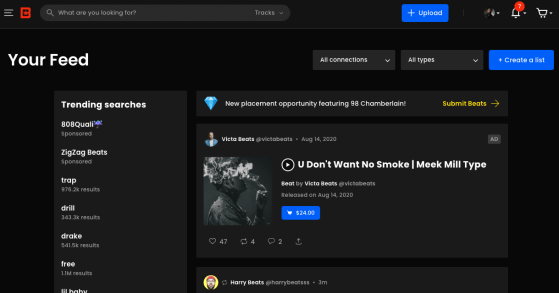 BeatStars makes it super easy for me to find quality beats to rap to. Actually, it's like the beats find me.
What is it and what can it do?
BeatStars is a digital production marketplace that allows music producers to license, sell, and give away free beats.
As an artist, you can start listening to beats right away.
It's helpful to sign up so that you can save your favorite beats and follow producers.
It's easy to find the right type of beat by using the search engine. For instance, you can search "drake type beats" and beats will be shown that meet that criteria.
With the search, you aren't limited to just an artist either. You can search for locations, genres, style, themes, etc.
You can also add beats to personal playlists, write your lyrics using their website/app, and see a history of the beats or beat licenses you've purchased.
What's extra special is not only the ability to message the producers and negotiate prices for licenses/full rights but the access to opportunities to have your music heard.
BeatStars regularly has remix contests for artists and has a big social media following that they will gladly share your music with.
How I use it
Since I'm already following my favorite producers, I just go on BeatStars when I'm in a writing mood and listen to beats on the front page.
When I find a beat I like, I favorite it so that I can get to it easier whenever I decide to finish writing to it.
If I want to test out a song before fully committing to it, I would purchase a license at a cheaper price.
Once I'm certain I want the beat all to myself, I will negotiate a price for exclusive rights.
I don't use BeatStars to store my lyrics. I use another app, which I'll explain in the next tool and why.
The cost
As an artist, using BeatStars is totally free. The only cost to you is that of the license or rights you purchase, but there are many free beats available on BeatStars that you can download.
However, you have very limited rights when downloading a free version of a beat.
5. Evernote (lyrics)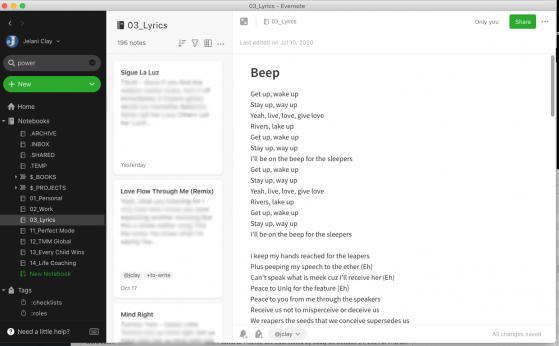 Evernote contains a key step in my songwriting workflow.
What is it and what can it do?
Evernote is an app designed for note-taking, organizing, task management, and archiving.
You can create and assign tasks inside your notes with due dates, flags, and reminders.
Evernote even lets you scan important documents directly into the app as well as save pages online.
With a web, a desktop, and a mobile app, you can keep all of your notes synced.
How I use it
If finding a beat is Step 1, then creating an Evernote file is Step 2 of my songwriting process.
Whenever I start writing a song, I create a new Evernote file.
I give the Evernote file the title I would give the song that I'm writing.
On the first line of the file, I enter the name of the producer and the name of the beat.
Then I proceed to fill in any lyrics.
NOTE: Evernote has the capability to accept audio inside of the notes, but you'll have to manually transcribe it.
Once I know that I'm going to record this song, I add the tag "JClay".
This tag initiates a workflow that adds this song to my Airtable database and creates a folder with subfolders in my cloud storage where the audio files and artwork will be housed.
This is why I prefer to write lyrics in Evernote instead of BeatStars because of the automation. Together, these tools make a great team.
The cost
Evernote is free to use if you only intend to use it as I described above.
The free plan allows you to sync on 2 devices and attach PDFs, receipts, files, photos, images, and documents.
The personal plan is $7.99/mo and the professional plan is $9.99/mo.
Each upgrade gets you more space and more cool features.
Get started with Evernote now!
6. Make (automation)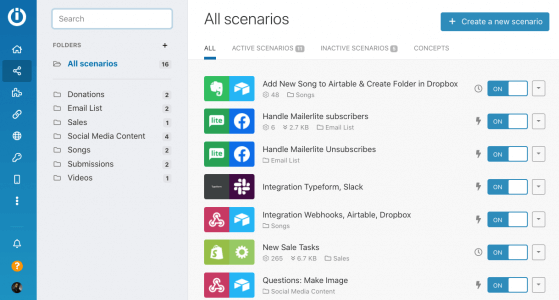 With Make (formerly Integromat) I can accomplish a lot for my music career without even doing anything.
What is it and what can it do?
Make lets you connect apps and automate workflows in a few clicks.
You can move data with ease between many of the platforms and tools that you already use.
For example, you can press a button in a table using Airtable that creates a post on your website, Twitter, Facebook, and Instagram and emails it to your email list.
How I use it
Besides the workflow I described above with Evernote, I also use it to create & post content, submit music to blogs, copy my new YouTube videos to my website, track merchandise sales and donations, and help with my advertising efforts.
There is a learning curve to using Make, but there is plenty of documentation and many YouTube videos available to help you.
I'm also a programmer so some of this comes easier to me. However, message me if you need help setting up any workflows.
The cost
Make is free to use, but you are limited on the number of operations you can perform. I recommend starting off with the free version while you get set up.
If you find yourself using a lot of operations, upgrade to Basic for $9/mo or Standard for $29/mo. I currently have Basic.
If this tool will be instrumental in your rap efforts, sign-up using my Make affiliate link. I'll earn 50% off of your first subscription payment and 20% off of each subsequent one for 2 years. That's pretty awesome. Thank you!
7. Sonaar (website)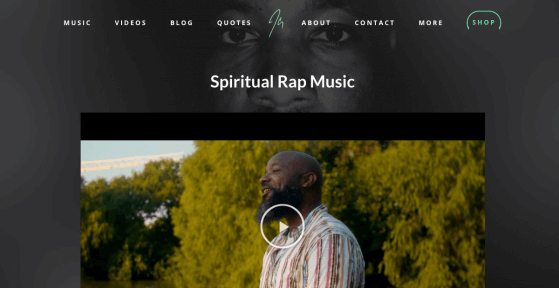 Sonaar made it so that I didn't have to pay big bucks for a professional web designer to make my site.
What is it and what can it do?
Sonaar makes premium WordPress themes for musicians and podcasters.
It has your electronic presskit all set up.
The theme includes a gallery, playable music that continues from page to page, an about section, a contact page, ways to sync your events, customizable content, and much much more.
There's even a one-click install.
In order to use a Sonaar template, your website must use WordPress, which is a free content management system.
How I use it
If you're reading this page, then you already see how I'm using Sonaar's template.
In fact, if you go to Sonaar website, you'll see this template with little changes.
The hard work was already done. I only had to change a few images and add my music.
There is a learning curve for tools like this as well, but still, feel free to message me and I can help get you set up.
The cost
Currently, the price of the theme is $89, which seems to go up every year because they are constantly adding functionality.
If you want to keep getting the updates, you will have to renew your subscription every year at the same price.
If you need a website template to house your music and content, sign-up using my Sonaar affiliate link. I'll earn 20% off of what you pay. Thank you!
8. Dashlane (passwords)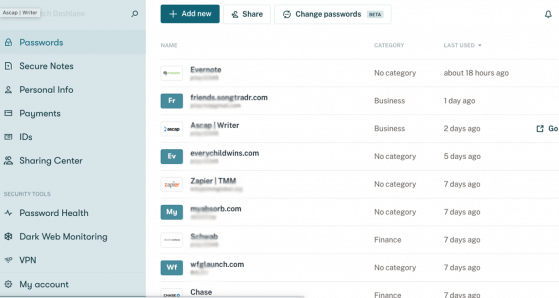 With countless accounts, Dashlane makes it so I don't have to memorize any more passwords.
What is it and what can it do?
Dashlane is a subscription-based password manager and digital wallet application. It's also one of my most highly recommended tools.
It stores and protects your personal data like passwords, bank info, and secure notes.
What this means is that you only need to keep track of one password and you'll have access to all of your others.
Every site will have its own unique random password.
Dashlane even alerts you if any of the companies you have passwords for have been hacked, and in some cases will automatically change your password for you.
How I use it
Any time I sign up for anything online, I store it in Dashlane.
When you use the desktop app, it stores your new password automatically.
Whenever you return to a site, Dashlane will automatically log you in (if you have this option checked for a particular site).
From a mobile device, when you click inside the password field, you will see an option for Dashlane. You click it and it automatically fills in your data.
I also use it to store bank account info. Having your routing and account numbers on hand comes in handy.
Again, Dashlane will automatically populate this info in online forms at your request.
NOTE: When populating payment info into form fields, Dashlane will ask for your password to make sure it's really you.
The cost
Dashlane is free to use for simple storage on one device. Its next plan is the Essentials, which comes with more features. It's $3.99 per month (or $2.99 per month if you pay yearly).
There are bigger plans with more features, but I use the Essentials plan.
If you want to make your password game easy with all these music accounts, sign-up using my Dashlane affiliate link. We'll both get 6 months free. Thank you!
9. Dropbox (cloud)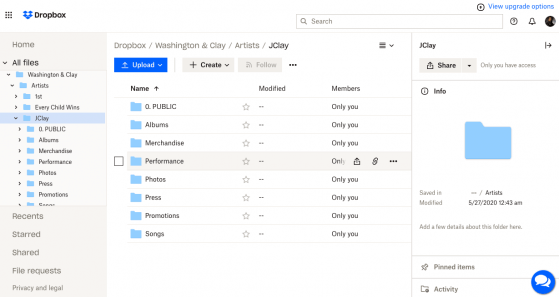 Dropbox is where I keep my files so they're always backed up and shareable with anyone at any time.
What is it and what can it do?
Dropbox is a file hosting service.
It allows you to securely store your files in one place, sync them across your devices, and share them with anyone in the world.
How I use it
Dropbox is where I store almost everything: my mixes, session backups, photos, logos, and more.
It links in perfectly with Integromat so that you can store files automatically.
When I give away free content through my email, I usually link it to Dropbox so that people will always have access to it.
The cost
Dropbox is free to start and gets you 2GB of storage. I needed more, so I got the Plus plan for $9.99/mo that gets you 2TB of storage.
Dropbox also has business plans starting at $12.50/mo. But you may not need that yet.
Get started storing on Dropbox now.
Keeping It Easy
Don't try to get all of these just because I recommend them. Depending on how you create music, some of these might cause more stress than be of help.
Start with the tool or tools that you know for sure you want to include in your music business procedures.
Or … get someone else to set this all up for you.
Keep it easy. You're a rap artist so make sure you are prioritizing the rapping over all else.
If you have any other tools you recommend, then please help us all out. Share them in the comments below!